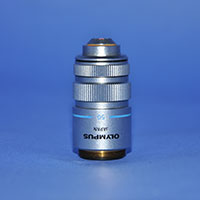 Description:
Olympus DPlan
50x
0.90 N.A Numerical Aperture
160 Tube Length
Oil Immersion
Includes Iris Diaphragm.
This is commonly used for live blood darkfield microscopy where the iris is closed down to reduce the amount of background light so the artifacts in the blood shine brighter.
Made in Japan.
Condition: Excellent. Appears to be never used. We guarantee this will work properly.
Includes plastic canister (not shown).