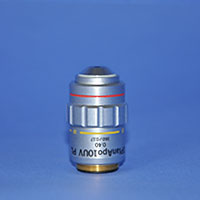 Description:
Olympus DPlanApo10UV PL
10x
0.40 N.A. Numerical Aperture
160 Tube Length
0.17 Cover Slip Thickness
Part Number 101029
Phase Contrast Ring.
Great for Fluorescence Microscopy. High transmission in the UV spectrum.
Made in Japan
Condition: Excellent. Appears to be never used. We guarantee this will work properly.
Includes plastic canister (not shown).