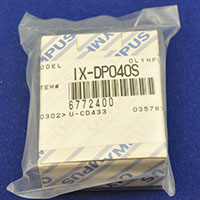 ITEM CODE: A384
Shipping Cost: Free Shipping
Description:
Olympus DIC NomarskiPrismIX-DPO40S.
Part Number: U-CD433.
38mm. diameter.
Compatible with: UPLAPO 40x Oil Iris, UApo 40x Oil Iris / 340, UApo 40x W2/340 Microscope Objectives with U-DICT(S) prism sliders and IX2 or IX-LWUCD condenser.
Price new from Olympus (2018 pricelist):USD $1,292.00
Condition: New in Box.