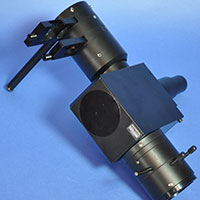 ITEM CODE: A316
Shipping Cost: To be determined
SOLD
Description:
Olympus Part Number IX-RFA / CAGED.
Reflected Fluorescence Microscope Illuminator.
With support stand.
The optics were briefly inspected and no signs of delamination or fogging were detected. All moving parts (iris diaphragms, centering knobs, sliders) seem to function properly.
This systems allows dual light source connection. One port can provide 100 percent of the light, or a lever can be moved and both illumination sources can simultaneously illuminate.
Pulled from Olympus IX70 Inverted Fluorescence Microscope.
Condition: Used.