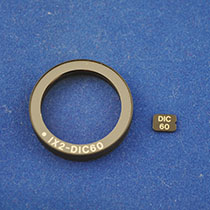 ITEM CODE: A234
Shipping Cost: To be determined
Description:
Olympus IX2-DIC60 DIC Nomarski Prism Slider for 60x Microscope Objective.
Olympus part number: IX2-DIC60
Size 38mm diameter.  Fits condenser IX2-LWUCD.
This costs around $1200 new from Olympus.
Includes the plastic ID tag that goes on the condenser so you know what setting is engaged.
Condition:
New but without factory packaging. We guarantee this will work properly.