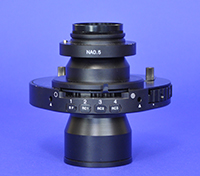 Description:
Olympus IX2-MLWCD Relief Contrast Condenser.
For IX2 series inverted microscopes: IX51 IX71 IX81, etc.
Also fits the older IX70.
Universal – long working distance.
Numerical Aperture 0.5. Working distance 45 mm.
Includes relief contrast annuli: RC1, RC2, RC3.
Includes rotating polarizer.
Made in Japan.
Olympus List Price – $3500.
Condition: Appears to be in good condition. You can return this if not satisfied.
.