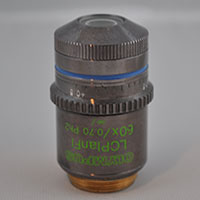 Description:
Olympus LCPlanFl
60x
0.70 N.A. Numerical Aperture
Infinity Corrected
Ph2
Made in Japan
Cap. P1.1+/-. For Plastic Petri and culture vessels.
Correction collar: -0.5 to + 0.5mm.
Long Working Distance.
Olympus part#1-UB351
NA 0.70, WD 1.89-1.10mm.
Olympus price new: USD $4,057.00
Condition: Good shape.
Includes plastic canister (not shown).