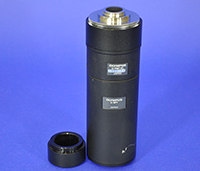 Description:
Olympus microscope camera attachment.
Models:. U-PMTVC and U-SPT.
Has C-mount camera attachment.
As another type of the attachment that screws to the C-mount. I'm not sure what other camera part may fit to this but you will not need this piece if you are using a C-mount camera.
Fits the BX series frames.
Condition: Good used condition.