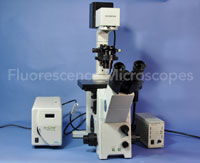 SOLD – BUT HAVE SIMILAR UNITS. PLEASE EMAIL US
MODEL: Olympus IX71
ITEM CODE: IX71
Shipping Cost: To be determined
Photography Port:
Complete photography solution with a camera port on side of the frame. We can provide optional camera attachments and camera equipment.
Special Features:
Vertical Illuminator for Reflected Fluorescence.
Halogen Transmitted Illumination for Brightfield and Phase Contrast Microscopy.
Olympus Model TH4-100 External Power supply for Halogen Illuminator. 100 Watt.
Right Handed stage with Low Position XY Mechanical Stage Movement. Many stages are simple plain stationary with no XY movement. This movement feature is an expensive option. A mechanical stage alone would be over $2000 new.
Condenser: N.A 0.55. Has phase annuli for Ph1 and Ph2.
6-Place Objective Nosepiece.
Magnification Selector Knob on side of frame. Push in for 1x. Pull out for 1.6x. This is a great way to increase magnification without needing to change lenses.
Objective Lenses:
UPlanFl 4x (NOT phase)
UPlanFl 10x, /-. Ph1. Phase.
LUCPlanFl 20x, 0-2mm with correction collar. Ph1. Phase.
LUCPlanFl 40x, 0-2mm with correction collar. Ph2. Phase.
Binocular Viewing Head:
Centering Telescope on head. Includes Focusing Ring. Use this when doing the alignment of the phase annulus rings in the condenser.
Note: Photos show it turned upward. Manual shows the head rotated 180 degrees with this facing downward. It can easily be rotated.
Dichroic Fluorescence Filter Sets:
6-Place Cube Turret.
We will install these new filter sets from Chroma: DAPI, FITC, TRITC.
They are the new style Chroma filters that are hard coated and given a lifetime warranty directly by Chroma.
Fluorescent Illumination System:
X-Cite Series 120Q Metal Halide by Lumen Dynamics. Fiber Optic cable to vertical illuminator on microscope. This system has a number of advantages over the standard HBO 100W Mercury Illuminator. For one, it doesn't have the typical alignment issues since it is fiber optic.
General Notes:
A minor issue, but we always mention anything that is noteworthy. Missing the rubber grip on the left knob, for condenser up/down movement. It is on the right side.
Power cords are included but not shown in the images.
This reconditioned microscope is in excellent working order and has been completely checked out and serviced.
User Manual and Instructions:
Click this link:  Olympus IX71 Inverted Microscope Brochure
Click this link: Olympus IX71 Inverted Microscope Manual
---
TERMS AND CONDITIONS:
Payment Method:We generally accept purchase orders from government, educational, and industrial facilities. For some orders, we accept credit cards. We also accept bank wire (telegraphic transfers) transfers. Contact us for details.
Shipping Costs:
Shipping costs vary. Please contact us and we will review your location and the cost to ship.
Money Back Guarantee:
We guarantee you will be satisfied with your purchase. If in the unlikely event you are not satisfied and want to return your item, please contact us within 10 days of receiving it. We will then arrange to get you an RMA number and details about how to return it. Shipping costs are non-refundable. We have no restocking fees. We will refund the full price of the equipment.
Warranty:
We warranty all our reconditioned products to be in good working order. We will repair or replace equipment at no charge, during our 90 day warranty period. We have a one year warranty period for labor.
Warning:
UV light and Mercury Bulbs are Dangerous! YOU MUST Read BEFORE purchasing!
Click this link.