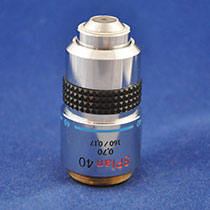 SOLD
ITEM CODE: L141
Shipping Cost: To be determined
Description:
Olympus SPlan 40x /0.70. 160/0.17. Microscope Objective Lens
Spring loaded. Spring works great with excellent spring-back. Often these lose their spring force and can't spring back to normal position.
Part Number 134379.
Made in Japan.
Includes plastic canister (not shown).
Condition: Used but in excellent condition. We guarantee this will work properly.