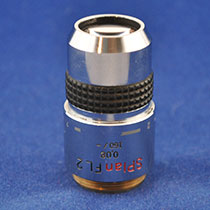 SOLD
ITEM CODE: L129
Shipping Cost: To be determined
Description:
Olympus SPlan FL2 2X/0.08. 160/- Microscope Objective.
Part Number 114876.
Made in Japan.
This has Fluorite in the lens so is excellent for use with a fluorescence microscope.
Includes plastic canister (not shown).
Condition: We are calling this used, but it looks to be in unused condition. We guarantee this will work properly.