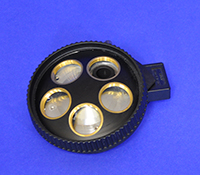 Description:
Olympus U-D5BDRE Brightfield Darkfield Objective Nosepiece.
This is the BD version with the larger thread size for the brightfield / dark-field objectives.
This will not fit the normal size RMS thread objectives without a threaded adapter.
For BX series upright microscopes: BX50, BX51, etc.
Includes plastic insert.
Condition: Appears to be in good condition. You can return this if not satisfied.