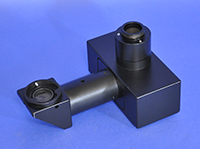 ITEM CODE: A484
Shipping Cost: Free Shipping
SOLD
Description:
Olympus U-DPT Dual Port Camera Adapter.
This is used to convert one camera port into two camera ports.
Not sure why, but this does not have the U-DPT or U-DPT-2 designation stamp
on it. It may have been an OEM, still made by Olympus.
For Olympus BX Series Microscope.
Condition: Appears to be in good condition. We will guarantee this works or you can return it.