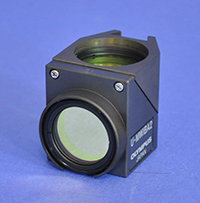 ITEM CODE: C197
Shipping Cost: Free Shipping
Description:
Olympus Model U-MWIBA2
FITC Dichroic Filter Cube
This is a wide band interference blue excitation wavelength set.
This will show green in the eyepieces of the microscope.
This is for a Fluorescence Microscope.
Olympus Part Number: U-M652
EX 460-90, DM505, EM510-50 Bandpass
Olympus Price New $1,837.00. (From 2013 price list).
Condition: New In Box.