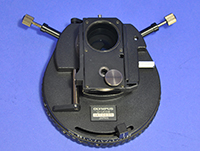 Description:
Olympus U-UCD8 Condenser.

Manual (not motorized) version.

Fits BX series microscopes.

This is used for Nomarski DIC. It does not contain any prisms inside.

These condensers in the manual version, are incredibly difficult to find.

Flip top lens with its holder is missing. You might be able to get one off of the more common motorized version, but I'm not sure how much of that would match up.
Condition: In good condition. Rotates fine with positive click stops. Missing flip top lens and lens holder.