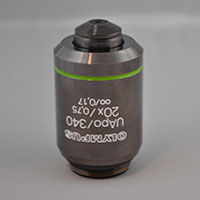 ITEM CODE: L309
Shipping Cost: To be determined
Description:
Olympus UApo /340
20x
0.75 N.A. Numerical Aperture
Infinity Corrected
0.17 Cover Slip Thickness
Excellent for use with UV Fluorescence in the 340 nanometer range.
Olympus part number: 1-UB765
WD 0.55mm
Olympus Price New: USD $1,741.00
Made in Japan
Condition: Excellent.
Includes plastic canister (not shown).