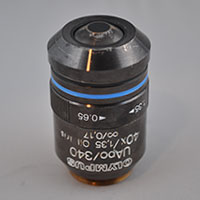 Description:
Olympus UApo / 340 nm
40x
1.35 – 0.65 N.A Numerical Aperture
Infinity Corrected
0.17 Cover Slip Thickness
Oil Immersion
Iris Diaphragm
Optimized for UV fluorescence microscopy with excellent transmission in the 340nm spectral range.
Made in Japan
Olympus Part Number 1-UB768
Working Distance 0.10mm
Olympus Price USD $2,546.00
Condition: Used. Scratched metal barrel but lens is fine.
Includes plastic canister (not shown).