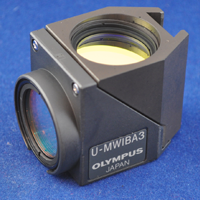 ITEM CODE: C180
Shipping Cost: To be determined
SOLD
Description:
Olympus U-MWIBA3 Wide Band Interference Blue Fluorescence Filter Cube for Olympus BX or IX Microscope.
This is the newer UIS2 version, not the older "U-MWIB / U-MWIBA2" UIS version.
Since this is the newer version, it may be the hard coated, sputtered technology that will never photo bleach, but that is not known for sure.
Emission is bandpass which gives better images than the long pass.
Specifications:
Excitor: 460-495 nm
Emitter: 510-550 nm (band pass)
BeamSplitter: 505nm
Cube Markings:
Olympus U-MWIBA3
Includes filter set plus blank cube.
The blank cube alone is sold for $441 from Olympus and also from Chroma.
The Olympus code is U-M6523. Original Olympus price with cube was $1,985.00 before their price increase.
Factory Description: Wideband Interference Blue
Compatibility: Cube is the wider style for the 4-position turret on the Olympus BX and IX series (ex. BX40/BX50/IX50/IX70, etc). It can fit the newer 6-position turret on the BX2 and IX2 series (ex. BX41/BX51/BX61/IX51/IX71, etc), but it is too wide to fit 6 cubes into the turret. It will not fit the BX3/IX3 series (ex. BX43/BX53/IX73 etc).
Condition: Unable to detect any signs of usage. In excellent like-new condition. We guarantee this will work properly.