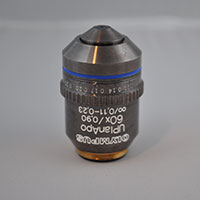 ITEM CODE: L311
Shipping Cost: To be determined
Description:
Olympus UPlanApo
60x
0.90 N.A. Numerical Aperture
Infinity Corrected
0.11-0.23 Cover Glass Thickness Correction Collar
N.A. 0.90. Dry. Do not use immersion oil with this.
Made in Japan.
Olympus Part Number: 1-UB831
WD = 0.20mm
Olympus Price USD $5,000.00
Item Condition: Excellent.
Includes plastic canister (not shown).