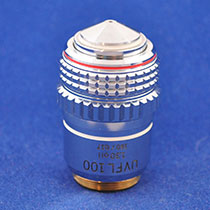 ITEM CODE: L126
Shipping Cost: To be determined
Description:
Olympus UVFL 100x /1.30 Oil 160/0.17. Microscope Objective
For use with a Fluorescence Microscope since it has Fluorite.
Capable of the UV range of wavelengths.
Part number 101653.
Has iris diaphragm. This rotates fine. Sometimes these are broken and/or frozen.
Made in Japan.
Includes plastic canister (not shown).
Condition: Used and in good condition. We guarantee this will work properly.