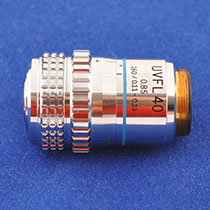 ITEM CODE: L123
Shipping Cost: To be determined
SOLD
Description:
Olympus UVFL 40x /0.85 DRY (Does not use Immersion Oil). 160mm TL.
Correction Collar 0.11 – 0.23mm.
For use with a Fluorescence Microscope since it has Fluorite.
Capable of the UV range of wavelengths.
Part number 100079.
Collar rotates smoothly and is not frozen like often happens.
Made in Japan.
Includes plastic canister (not shown).
Condition: We are calling this used, but it looks to be in unused condition. We guarantee this will work properly.