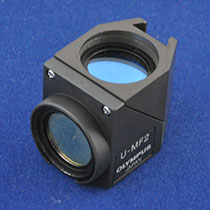 ITEM CODE: C124
Shipping Cost: To be determined
SOLD
Description: Omega XF101-2 Fluorescence Filter Cube for Olympus BX Microscope.
Cube Markings: Omega Optical XF101-2, BX-141.
Filter Set Components:
Exciter: XF1074 (525AF45)
Dichroic: XF2017 (560DRLP)
Emitter: XF3085 (565ALP)
Brighter emission with lower signal-to-noise than the XF108-2 bandpass
equivalent This set is excellent for working with rhodamine or Cy3, and with
the longpass emission filter, this set is designed to collect maximal signal from
all recommended dyes. However, we do not recommend this set if you intend
to also use Cy5 in your experiments. See XF108 for a set suitable for that
type of work.
Compatibility: Cube is the narrow style for the 6-position turret on the Olympus BX2 and IX2 series (ex. BX41/BX51/IX71, etc) and also retrofits the older 4-position turret on the BX and IX series (ex. BX40/BX50/BX60/IX50/IX70, etc). It will not fit the BX3/IX3 series (ex. BX43/BX53/IX73 etc).
Condition:
Filters show minimal signs of usage and are still in good condition. We guarantee this will work properly.
Includes plastic cube holder (not shown).