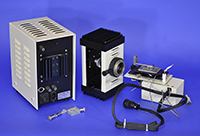 Description:
Opti Quip Mercury Vapor Lamp Power Supply.
Model 1600 XT.
Includes lamp housing.
For Fluorescence Microscope.
The bulb is broken. We are including it only so you can see the type of replacement bulb that is needed.
This could have parts missing. We are unable to test this equipment.
We will include a power cord (not shown in photos).
Condition: Appears to be in good condition. If you are not satisfied with the purchase, you can return it to us.