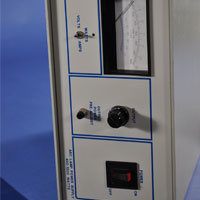 ITEM CODE: A202
Shipping Cost: To be determined
SOLD
Description:
Oriel Instruments 1000W Arc Lamp Power Supply Model 68920 for various scientific experiments, laboratory applications and Microscope usage.
This power supply gives a highly regulated source of power for DC arc lamp light sources from 450W to 1000W. This model gives constant power operation for stable light output.
Adjustable power output frm 300-1200W.
Analog meter for precise monitoring of power, voltage, and current.
Ignitor drive circuit compatible with ORIEL 66920 series Research Lamp Housings.
Input power: 220-240 VAC 50/60 Hz. (Note: This won't work on 110V electricity).
Year made: April 2000.
Made in Germany. (Looking inside the fan grills, it says "Made in Germany").
This weights 80 lbs (36 Kg). This is a heavy duty power supply.
Includes instruction manual.
Condition:
Sold as is. We don't have a 220V power supply to plug this into to test it. It was pulled from a working environment so it should be fine. We recommend serious buyers to contact us first before buying and discuss testing this.