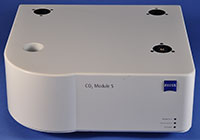 SOLD
ITEM CODE: A182
Shipping Cost: To be determined
Description:
Pecon CO2 Module S1.
This is used as a part of an incubation system on a Zeiss Z1 Axio Observer microscope and other models.
Part No.: 810-450001.
Input: 24 VDC.
CE certified.
Zeiss AIM-SYSTEM 2601000510.
Made in Germany.
We guarantee this CO2 Module will work properly.
The equipment was pulled from active service in a laboratory.