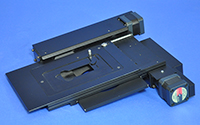 ITEM CODE: A434
Shipping Cost: Free Shipping
Description:
Motorized Stage
Brand: Prior.
This was taken off an Olympus BX51 Upright Microscope.
This includes the stage adapter plate.
Prior Model Type: H101CPC5.
Made in England.
Condition: Appears to be in good condition.  We are unable to test this equipment. We will guarantee this works or you can return it.