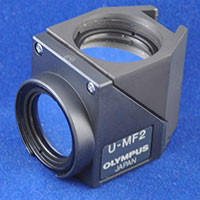 SOLD
ITEM CODE: C137
Shipping Cost: To be determined
Description: Semrock Brightline DAPI Fluorescence Filter Cube for Olympus BX Microscope.
Specifications:
Excitor: 387 nm
Emitter: 447 nm Band Pass
BeamSplitter: 409nm
Cube Markings: DAPI-1160B-OMF-ZERO
Filter Set Price New (without blank cube): $884.
We are including the blank cube which is sold for $441 from Olympus and also from Chroma.
Factory Website Link: https://www.semrock.com/setdetails.aspx?id=2778
Factory Description:
Highest Contrast DAPI set on the market. The preferred DAPI set for most applications, this filter set is optimized for achieving exceptionally low noise (background) yet high brightness, resulting in unsurpassed contrast (signal-to-noise ratio). Images of typical cell samples with DAPI-stained nuclei exhibit more than twice the contrast of those made with the leading competitor's set. The carefully optimized narrow, red- shifted exciter filter minimizes fluorophore photobleaching and sample phototoxicity. What's more, unlike soft-coated filters and absorbing glass filters used for DAPI
excitation, the unique hard-coated exciter does not "burn-out" under the intense UV illumination of modern fluorescence light sources.
This set is the unparalleled choice for most situations, especially those involving digital imaging.
The BrightLine ZERO™ option guarantees that the worst-case image shift when interchanging Semrock ZERO sets will be less than ± 1 pixel, measured relative to the mean image position for a large sample of filter sets.
Compatibility: Cube is the narrow style for the 6-position turret on the Olympus BX2 and IX2 series (ex. BX41/BX51/IX71, etc) and also retrofits the older 4-position turret on the BX and IX series (ex. BX40/BX50/BX60/IX50/IX70, etc). It will not fit the BX3/IX3 series (ex. BX43/BX53/IX73 etc).
Condition:
Unable to detect any signs of usage. In excellent like-new condition. We
guarantee this will work properly.