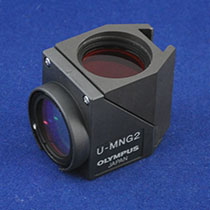 SOLD
ITEM CODE: C126
Shipping Cost: To be determined
Description:
Fluorescence Filter Cube for Olympus BX Microscope.
Green Excitation (narrow band)
Specifications:
Excitor: BP530-550
Emission: BA590
Beamsplitter: DM570
Cube Markings: Olympus Japan U-MNG2.
 Compatibility: Cube is the wider style for the 4-position turret on the Olympus BX and IX series (ex. BX40/BX50/IX50/IX70, etc). It can fit the newer 6-position turret on the BX2 and IX2 series (ex. BX41/BX51/BX61/IX51/IX71, etc), but it is too wide to fit 6 cubes into the turret. It will not fit the BX3/IX3 series (ex. BX43/BX53/IX73 etc).
Condition:
Filters show some signs of usage, but are still in good condition. We guarantee this will work properly.
Includes plastic cube holder (not shown).
Link to Olympus Manual discussing this filter set:
http://www.olympusamerica.com/files/seg_bio/seg_uis_fluomirror_techspecs_bro.pdf
Applicable Fluorochrome List:
Acidic Fuchsin (Pararosaniline), Alexa Fluor 568,
Dil,
Ethidium Bromide, Ethidium homodimer-1, Evans Blue,
Merocyanine 540,
Pararosaniline-Feulgen, Phycoerythrin B (PE-B), Phycoerythrin R (PE-R),
Propidium Iodide (PI),
Resorufin, Rhodamine B-isothiocyanate (RITC), Rhodamine-Phalloidin,
Spectrum Orange,
Xylenol Orange