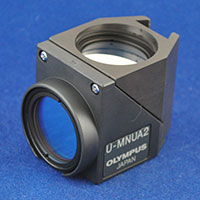 SOLD
ITEM CODE: C113
Shipping Cost: To be determined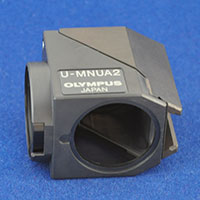 Description: Fluorescence Filter Cube for Olympus BX Microscope.
Specifications:
Excitor: BP360-370
Emission: BA420-460
Beamsplitter: DM400
Cube Markings: Olympus Japan U-MNUA2.
Compatibility: Cube is the narrow style for the 6-position turret on the Olympus BX2 and IX2 series (ex. BX41/BX51/IX71, etc) and also retrofits the older 4-position turret on the BX and IX series (ex. BX40/BX50/BX60/IX50/IX70, etc). It will not fit the BX3/IX3 series (ex. BX43/BX53/IX73 etc).
Condition: Unable to detect any signs of usage. In excellent like-new condition. We guarantee this will work properly.
Comes in original Olympus plastic filter cube holder.
Link to Olympus Manual discussing this filter set:
http://www.olympusamerica.com/files/seg_bio/seg_uis_fluomirror_techspecs_bro.pdf
Applicable Fluorochrome List:
4, 6-diamidino-2-phenyl-indole HCI (DAPI),
7-amino-4-methylcoumarin-3-acetic acid (AMCA),
Alexa Fluor 350, Aniline blue,
bis-Aminophenyl-oxadizole (BAO) -Feulgen,
Calcein Blue, Cascade Blue,
Diphenylhexatriene (DPH),
EBFP, Euchrysine (Acridine Orange),
Fast Blue, Filipin,
Granular Blue,
Hoechst 33258, Hoechst 33342,
Monochlorobimade
o-Phtalaldehyde (OPT),
SITS,
True Blue