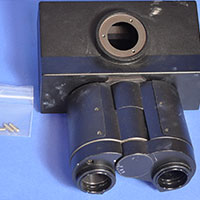 ITEM CODE: A299
Shipping Cost: To be determined
SOLD
Description:
U-SWTR-2 Super Wide Field Trinocular Head.
Fits Olympus BX series Microscopes.
Glass optics look good. Prism slider moves well and has positive stops.
The shine in the optics, as seen in the photos, is from the overhead lighting.
Looking internally I can't see any cracks or broken prisms.
The outside has several really visible scratches.
The trinocular port on the top is missing some parts. A machine shop could make what is needed.
Condition: Used. Several scratches. Sold for parts.