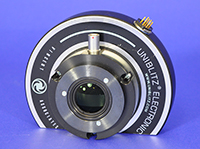 Description:
Uniblitz High Speed Shutter Photo Multiplier Tube
For Microscope.
This does not fit Zeiss.
This is missing a controller.
The back of the equipment has the word: Hamamatsu.
Model number VS35S2ZM0-21.
P/N 9003-0212
We are unable to test this equipment. It may not work properly or may be missing something. We are not familiar with this type of equipment.
Condition: If you are not satisfied with the purchase, you can return it to us.