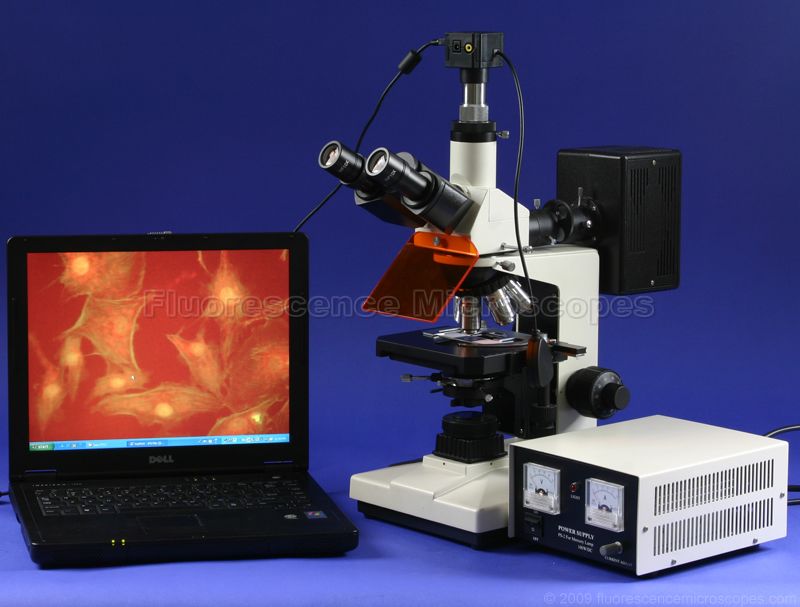 SALE PRICE: USD $1,800.00
Original Price:
USD $2,819.98
Model: fl0015000m
Shipping/Handling/Insurance: $ 54.98
Also Capable of Transmitted Light,
 Bright-Field Microscopy.
Compare to Similar Units costing $20,000 with Name Brands!
Excellent Bright and Clear, High Contrast Images through High Quality Optics.
Camera Equipment Included
Ideal for Advanced Biomedical Research, Research in Biology, Cytology, Oncology, Haemotology, Genetics, Immunology, Environmental Protection, Microchemistry, Analysis of Sedimentary Rock, and Inspection of Impurities in Semiconductors.
High Resolution 3.1 MegaPixel Digital Camera System.
Complete Digital Microscopy Solution Included.
Capture high resolution digital microscope images, 2048×1536 pixels.
View and record full motion live video microscope images. Frame size options for video mode: 2048X1536 (up to 11 FPS, depending on PC), 1024 X 768, 640 X 480, 512 X 384.
Computer connected digital microscope camera connects via USB2.0. Includes USB cable and MS Windows software.
Color DSP built into camera provides sharp quality color images. Image sensor size is half inch.
Includes measuring capability with the software.
Carrying Case
BONUS: Includes a Carrying Case with Precut Foam for safe transportation of your precision instrument.
Eyepieces and Magnification
Four Fluorescence Magnifications: 40x, 100x, 250x, and 400x.
Two Fluorescence DIN Objectives: 25x (0.65 NA, 0.62mm Working Distance), 40x (Glycerin Immersion or can use Dry, 1.0 NA, 0.25mm W.D.).
Optional (Not Included): 100x Fluorescence DIN Objective, 1.25 NA, 0.18mm W.D., Glycerin.
The BrightField 4x and 10x Objectives can be used to Observe Fluorescence Images. For Higher Magnifications, the Special Fluorescence Objectives are used.
Four BrightField Magnifications: 40x, 100x, 400x, and 1000x.
Four Plan DIN BrightField Objectives: 4x (0.1 NA, 17.9mm W.D.), 10x (0.25 NA, 8.8mm W.D.), 40x (0.65 NA, 0.56mm W.D.), 100x (1.25 NA, 0.33mm W.D., Oil Immersion).
Eyepiece Set Included: Wide Field 10x.
Spring Loaded 25x, 40x, and 100x Objectives to Protect Slides.
Reverse Facing Quintuple Nosepiece! A Better Design that allows Easier Access to the Slides since Objectives are Pointed Out of the Way!
Illumination
Fluorescence Light Source: Super High Pressure Mercury Lamp (100W DC). Mounted to the Rear and Enclosed in a Sturdy Metal Housing.
External Power Supply for Mercury Lamp: 100W DC with Current Adjustment Knob and Volt / Amp Analog Gauges.
The Arc of the Mercury Lamp is Easily Centered by using Two Lamp Positioning Knobs on the Lamp Housing.
Epi-Fluorescence Illumination System: Blue and Green Excitation Fluorescence Filter Cubes.
BLUE Fluorescence Excitation Dichroic Filter Cube: Excitation Spectrum 420 – 485nm, Emission Filter 515nm.
GREEN Fluorescence Excitation Dichroic Filter Cube: Excitation Spectrum 460 – 550nm, Emission Filter 590nm.
Optional – Not Included: Violet (V) (Purple) Fluorescence Excitation Dichroic Filter Cube: Excitation Spectrum 395– 415nm; Emission Filter 455 nm.
Optional – Not Included: Ultra-Violet (UV) Fluorescence Excitation Dichroic Filter Cube: Excitation Spectrum 330 – 400nm; Emission Filter 425 nm.
Other Filter Spectrums can be Special Ordered. Contact us for Details and Costs.
3-Position Fluorescence Filter Cube Slider Assembly: Blue Filter, Green Filter, and No Filter for Brightfield Microscopy.
BrightField: Transmitted Light Source: Variable Intensity 6V/20W Tungsten Halogen Base Illumination.
BrightField: Koehler Illumination System with Focusable Field Diaphragm on Base to allow for Better Control and more Efficient Use of Light Source.
Head – Interpupillary Distance – Diopter
30 Degree Inclined Trinocular Head (Easier to View than 45 Deg.).
Adjusts to the Distance Between your Eyes: 53 to 75mm InterPupillary Distance.
Diopter Adjustment to Correct for Your Specific Vision Needs.
Condenser – Iris – Filters
Fluorescence Light Condenser with Condenser Movement Knob.
Fluorescence Light Field Diaphragm with Centering Adjustment Knobs.
BrightField: 1.25 N.A. Abbe Substage Condenser, Condenser Movement Knob, Iris Diaphragm, Swing-Out Filter Holder, and Condenser Alignment Screws.
BrightField: Four BrightField Filters Included: Blue, Green, Yellow, Frosted White.
Stage Specifications
Large Graduated Mechanical Movable (up/down and longitudinal Y-direction) Stage: 160 x 140mm.
Low Position Coaxial X-Y Slide/Stage Movement Knobs – Range of Movement: 75mm (X-Direction – Slide Movement) x 50mm (Y-Direction – Stage Movement).
Focusing
Coaxial Fine and Coarse Focusing Knobs on Both Sides of Microscope.
Coarse Adjustment Travel Range: 22mm. (Stage Movement Distance Up/Down).
Fine Adjustment Division: 0.002mm.
Adjustable Lock Ring Stop to Limit Coarse Range to Protect Slides.
Tension Adjustable Coarse Focusing.
Frame – Base – Size – Weight
Total Overall Height of Microscope: 420mm.
Instrument Weight (including power supply): 23.5 lbs.
Included Items
Orange stray light protection eye guard on front of microscope.
Includes: Two Extra Mercury Bulbs (3 total included, for fluorescence observation).
Includes: Instruction Manual, Dust Cover, Two Extra 6V/20W Bulbs (for brightfield), and Extra Fuse.
Includes bottle of standard immersion oil for use with 100x brightfield objective. Includes bottle of glycerin for the 40x glycerin immersion objective.
Other Specifications
Manufactured under ISO: 9001 Standards.
110 VAC Power Requirement (Contact us about 220V availability).
High Quality Solid Construction!
Precision Made Glass Optics!
Brand New, Never Used!
Manufacturer's Warranty
Warranty is 1 year on all microscope equipment.
The microscope warranty covers problems arising from normal usage.
We will repair or replace your defective microscopy equipment as needed during the warranty period.