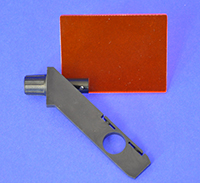 ITEM CODE: A531
FREE SHIPPING
Description:
UV Protection Filter Shield with plastic insert holder.
This fits the Zeiss Axioskop 2 upright fluorescence microscopes. It may also fit other upright Zeiss microscopes.
These shields are very rare to find.
Protect your eyesight from harmful UV, especially when using DAPI and UV fluorescence.
Condition: Good used condition