ELWD Ph2 40-60, infinity, Phase Ring – Annuli.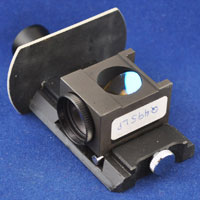 SOLD
ITEM CODE: A193
Shipping Cost: To be determined
Description:
V-2A FITC – GREEN 495nm Excitation Fluorescence Filter Cube Tray for Microscope.
Not sure what this comes off of, but it's probably a Nikon. If anyone knows, please tell us.
Cube Markings: V-2A, Q495LP. This is a long pass filter.
Condition:
Unable to detect any signs of usage on the filters. In excellent like-new condition. We guarantee this will work properly.
The metal shaft shows some rust but that will not make any difference for the filters.