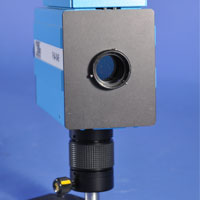 ITEM CODE: A208
Shipping Cost: To be determined
SOLD
Description:
Video Scope International Ltd VS4-1845 Image Intensifier Assembly for Camera.
Only what is shown in the photos is included. This is the text from factory, so what factory describes may not be included with this item:
"The VS4-1845 is a high resolution high gain Generation III Microchannel Plate (MCP) Image Intensifier optically coupled using a high efficiency lens for use in very low light quantitative imaging. The VS4-1845 is coupled to a Digital or Analog video camera via a C-Mount lens Output"
Factory Website: http://videoscopeintl.com/wp-content/uploads/2013/11/VS4-1845.pdf
Condition: Sold as is.