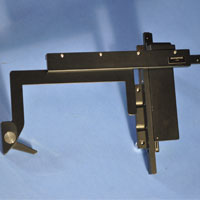 SOLD
ITEM CODE: A215
Shipping Cost: To be determined
Description:
XY stage for Olympus Model CK2 Inverted Microscope.
This stage is in excellent condition with smooth X and Y movement. The scan area is
78mm x 120mm. It fits standard 96 well plates as well as misc adapters to fit other plates and petri dishes.
Condition:
Used but in excellent condition. We guarantee this will work properly.