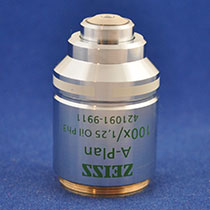 ITEM CODE: L163
Shipping Cost: To be determined
Description:
Zeiss A-Plan 100x/1.25 Oil Ph3 Infinity/0.17 M27 Phase Microscope Objective.
Larger thread size for the newer M27 models.
Spring loaded.
Part Number 421091-9911.
Price new from Zeiss: USD $946.
It comes in the original Zeiss plastic canister.
Condition: New. Perfect condition. We guarantee this will work properly.