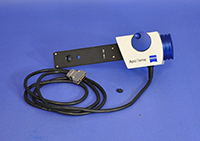 ITEM CODE: A487
Shipping Cost: Free Shipping
Description:
Zeiss Apotome.
Part number 1144-700.
Note that there is a small piece that popped out. It is shown in the photos. I
don't think anything is damaged. I think it just needs to be put back into place.
This is for a Fluorescence Microscope.
Condition: Appears to be in good condition. We will guarantee this works or you can return it.