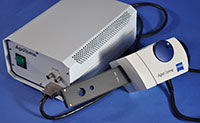 SOLD
ITEM CODE: A503
Shipping Cost: To be determined
Description:
Zeiss Apotome Slider for Microscope.
Part Number: 1144-700.
Control Box voltage requirement: 100-240 VAC.
An apotome is a device used to take optical sections in fluorescence imaging. These individual section images are combined together in a computer to create a 3D image.
The microscope is not included.
This ad only includes the slider and control box.
We show a Zeiss Axioplan-2 ie Imaging microscope with the Apotome installed. This is only for demonstration purposes.
We did not test this apotome. It will need software to fully test it.
We guarantee it will work properly.
The equipment was pulled from active service in a laboratory.