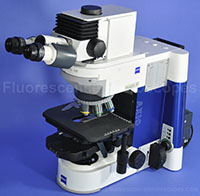 MODEL: Zeiss Axio
ITEM CODE: 601
Shipping Cost: To be determined
Description:
Here is your chance to save a bundle! Why pay more? This phase contrast microscope is brand new and never used. It was originally destined for a laboratory but the project failed before the equipment could be used. If your application is for a high-end, top of the line brightfield and phase contrast system, this is your opportunity to save big. If you need a fluorescent system, then this is the starting point you need. We have reviewed all the equipment with a Zeiss dealer and have developed the costing for the fluorescence upgrade kit.
Specifications:
Trinocular head with photoport for attaching camera equipment.
Ergonomic head with eyetubes, vertically adjustable and extensible, erect, upright image.
Zeiss W-Pl 10X/23 Eyepieces.
Auxiliary eyepiece d=30.
7-Position Objective Turret.
Mechanical stage size 75x50mm right hand operation with ceramic surface.
Objectives:
Plan-APOCHROMAT 10X, PH1, Phase
EC Plan NEOFLUAR 20X, PH2, Phase
A-Plan 40X/0.65 PH2, Phase
Final magnifications: 100x, 200x, 400x.
100W Halogen Lamp Housing with light collector.
12V 100W Halogen Lamp.
Achromatic-aplanatic universal condenser 0.9 N.A.; H D Ph DIC. This is a special condenser that is corrected for both spherical as well as chromatic aberrations.
Power Cord. This is supplied but not shown in the images.
Three Color Filters:
Contrast-enhancing blue filter.
White-balance filter.
Interference wide-band filter green.
Includes assembly toolkit and power cord.
Includes original factory printed instruction manual booklet.
Prices – Cost of included equipment – Cost to upgrade to fluorescence:
The product codes below, abbreviated descriptions, and prices are from a Zeiss Dealer's quotation.
ZEISS AXIO IMAGER A1 – ITEMS INCLUDED
Qty 1: 4300050000000000 Axio Imager A1 Stand Manual $2,149.
Qty 1: 4255150000000000 Binoc Phototube Ergo 15/23 50/50 fix $2,808.
Qty 1: 4448309902000000 Phase Telescope f/Axio Imager $236.
Qty 1: 4245010000000000 Nosepiece 7x HD Cod f/ Imager $1,297.
Qty 1: 4320140000000000 Mechanical Stage 75x50R $531.
Qty 1: 1132489000 Specimen Holder f/1104-300 $88.
Qty 1: 4206419910000000 Plan-Apochromat 10x/0.45 Ph1 WD=2.0 M27 $2,996.
Qty 1: 4203519910000000 EC Plan-Neofluar 20x/0.50 Ph2 WD=2 M27 $2,064.
Qty 1: 4410510000000000 A-Plan 40x/0.65 Ph2 WD=0.43 $649.
Qty 1: 4230000000000000 Lamphousing 12V/100W w/ Collector $885.
Qty 1: 3800799540000000 Bulb HAL12V/100W Rectangular Filament $27.
Qty 1: 4242000000000000 Condsr Achr Apl 0.9 H/D/Ph/DIC $1,150.
Qty 1: 4283050000000000 Filter Carrier 3x for filter d=32 Imager $130.
Qty 1: 1095168000 Intermediate Ring W 0.8 to M27, 0mm $42.
Qty 1: 1220224000 Contrast Enhancement Filter D=32 $11.
Qty 1: 1155789000 White-balance filter d=32×1.5 $59.
Qty 1: 4678030000000000 Interf Filter Green D=32mm x 4mm $69.
Qty 2: 4550430000000000 Eyepiece W PL 10x/23 Focusing $440 x 2 = $880.
Qty 2: 4448010000000000 Folding Eyecup $17 x 2 = $34.
Qty 1: 4283000000000000 Filter Wheel Man f/ Imager $636.
Qty 1: 4343040000000000 Dust Protection Set L $47.
Total Cost from Zeiss: USD 16,788. (This is what we're offering for USD 11,000)
ZEISS AXIO IMAGER A1 – ADDITIONAL ITEMS TO PURCHASE FOR FLUORESCENCE
Qty 1: 4249060000000000 Reflector Turret 6x Man cod f/ Imager $826.00.
Qty 3: 4249310000000000 Reflector Module FL EC P&C $230.00 ea x 3 = $690.00
Qty 1: 4236110000000000 Diaphragm Slider man w/ Luminous Field $768.
Qty 1: 4236130000000000 Diaphragm Slider man w/ Centr Aperture $768.
Qty 1: 4283000000000000 Filter Wheel Man f/ Imager (optional) $636.
Qty 1: 4879310000000000 Neutral Density Filter Set D f/ Imager (optional) $230.
Qty 1: 4247050000000000 Compensator Mount D 6×20 f/ AxioImager (optional) $249.
Qty 1: 4521630000000000 FL Light Shield F/ Plan 2 & Skop 2 (optional) $201.
Qty 1: 4236030000000000 FL/HD Light Train Man f/ Imager A1, M1 $1,711
Qty 1: 010-00151 X-Cite 120Q system w/o iris, includes Lamp, 3mm x 1500mm Liquid Light Guide, and Microscope Adapter. $4,695.
Total Cost from Zeiss: USD 10,774.
Update: We have just acquired a brand new X-Cite Series 120 Q, Lumen Dynamics Model XI120-Q. Autovolt (100-240 VAC). Made in Canada, illuminator. Plus a new 120 Watt X-Cite high pressure metal halide arc lamp (part number 012-63000). Plus a new Zeiss Axio standard X-Cite Adapter (part number 810-00022X). These are all new in factory packaging. We only opened to inspect them for completeness. We can provide these parts to further reduce your cost.
In addition, specific dichroic filter cube sets will need to be purchased, depending on the application. At no charge to the buyer, we will purchase Omega brand filter sets for DAPI, FITC, and TRITC and install them in the blank filter cubes. We are a dealer for Omega Filters.
Zeiss Factory Price for filters:
Qty 1: 4880499901 DAPI $660.00
Qty 1: 4880099901 FITC $560.00
Qty 1: 48880209901 TRITC $534.00
Total: USD 1754.
Factory Pricing:
IMAGER A1: USD 16,788.
Fluor Kit: USD 10,774.
Dichroic Filter Cubes for DAPI, FITC, and TRITC: USD 1754.
Total Factory Price: USD 29,316.
We are here to save you money and can offer you this below!
Special Deal for complete Axio Imager A1 with fluorescent kit including DAPI, FITC, and TRITC Omega brand filters:
Reduced Sale Price: USD 19,000.
You Save USD 10,316.
Condition:
This is a never used, new microscope.
User Manual and Instructions:
Zeiss Axio Imager
---
TERMS AND CONDITIONS:
Payment Method:
We generally accept purchase orders from government, educational, and industrial facilities. For some orders, we accept credit cards. We also accept bank wire (telegraphic transfers) transfers. Contact us for details.
Shipping Costs:
Shipping costs vary. Please contact us and we will review your location and the cost to ship.
Money Back Guarantee:
We guarantee you will be satisfied with your purchase. If in the unlikely event you are not satisfied and want to return your item, please contact us within 10 days of receiving it. We will then arrange to get you an RMA number and details about how to return it. Shipping costs are non-refundable. We have no restocking fees. We will refund the full price of the equipment.
Warranty:
We warranty all our reconditioned products to be in good working order. We will repair or replace equipment at no charge, during our 90 day warranty period. We have a one year warranty period for labor.