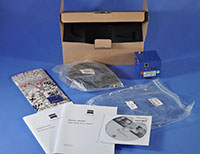 SOLD
ITEM CODE: A164
Shipping Cost: To be determined
Description:
Zeiss AxioCam ERc 5s Camera
Carl Zeiss Microscopy GmbH
Part number 426540-0000-000.
Made in Germany.
5V DC / 2.5W.
CE Certification
An SD card can be inserted for storing the photos.
Comes with factory box and packaging.
Connects via a standard C-mount on a microscope.
Includes cable.
Includes a legal copy of Zeiss Zen 2012 software on CD-Rom. No hardware lock needed. This will operate the camera and take basic photos. It will not do detailed processing. The software is a free download from Zeiss. If you need detailed analytical software, there is a cost for that. Zeiss can provide you all kinds of different software.