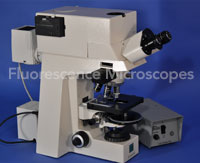 SOLD – BUT HAVE SIMILAR UNITS. PLEASE EMAIL US
MODEL: Zeiss AxioPhot
ITEM CODE: AXIOPHOT
Shipping Cost: To be determined
Description:
Used fluorescence microscope. Sold in as-is condition.
HBO 50W Mercury Illumination System.
Transmitted Illumination: 12V-100W Halogen.
Includes three fluorescent filter sets on tray slider.
Specifications:
Trinocular head capable of photography.
Eyepiece Pair: Pl 10x/25mm. The super wide field 25mm field of view is a benefit over the normal 22mm.
Right-Hand mechanical stage with XY slider for glass specimen slide.
Sextuple (6-position) nosepiece for holding the objectives.
Power cord included but now shown in photos.
Objectives:
CP-Achromat 5x/0.12, Infinity/-.
CP-Achromat 10x/0.25, Infinity/-.
CP-Achromat 40x/0.65, Infinity/0.17.
AchroPlan 100x/1.25, Oil Immersion. Infinity/0.17.
Light Condenser:
Turret style rotating condenser.
Numerical Aperature 0.9.
Includes flip-out top lens system. This enables the use of lower power scanning objectives such as 2.5x magnification.
Has Ph2 and Ph3 phase contrast annuli in the condenser.
Also has stops for: brightfield (with iris), and two extra (empty) spots.
Transmitted Illumination:
Lamp is 12V-100W Halogen.
Lamp Housing is located on rear lower part of the frame.
Variable intensity illumination control.
The frame has four built-in light controlling filters on a push-button style engagement system.
The filters are: dark-gray ring (neutral density 0.06), light-gray ring (ND 0.25), green ring (green interference filter), blue ring (conversion filter 3200/5500K).
Koehler illumination field iris diaphragm.
Fluorescence Filter System:
3Fl Cube slider tray. Holds three dichroic filter cubes.
There are currently qty 3 filters installed in the tray.
Filter One: BP546; FT 580; LP 590
Filter Two: 450-490; FT 510; 515-565
Filter Three: unmarked
Fluorescent Illumination:
50W HBO High Pressure Mercury Illuminator.
Bulb Type HBO 50W.
Bulb is not included. Bulb can be easily purchased new elsewhere.
Warranty:
This item is sold as-is with no warranty or guarantee.
Warning:
UV light and Mercury Bulbs are Dangerous! YOU MUST Read BEFORE purchasing!
Click this link.
Safety with UV Light