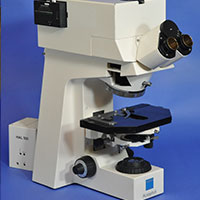 ITEM CODE: F112
Shipping Cost: Free Shipping
Description:
Zeiss Axiophot
Upright Fluorescence Microscope.
Includes only what is shown in photos.
This is a partial unit. It will need more components to be functional.
It is being sold exactly like we got it with no refurbishing or work done to it.
We did plug it in and confirm the halogen light worked properly.
It is being sold only for parts. No guarantees. No warranty. No returns.
Condition: Refer to photos for condition. Nothing has been tested.