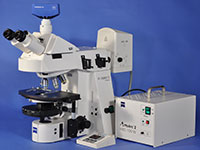 SOLD – BUT HAVE SIMILAR UNITS. PLEASE EMAIL US
MODEL: Zeiss Axioplan 2ie MOT
ITEM CODE: 631
Shipping Cost: To be determined
Trinocular Head:
Trinocular head with photo port. Can add other equipment for photography.
Eyepiece pair Pl 10x/25. Wide 25mm field of view FOV. Many objectives only go 18mm, 20mm, 22mm, or sometimes 23mm. These 25mm field of view eyepieces give exceptional vision, as would be expected with a Zeiss. Each eyepiece has its own diopter adjustment.
Head is on an ergonomic 30 Degree angle.
3-Position prism slider with these settings: 100:0; 50:50; 0:100.
Head Part number: 452143-0000-000.
Camera Equipment:
No camera is included in this ad.
To show how one would fit, we attached a Zeiss AxioCam. If you need a camera, please contact us about this. We can provide the Zeiss MRc color or MRm AxioCam monochrome camera for exceptional publication quality documentation purposes.
Included with this microscope is a c-mount adapter: TV2/3"C 0.63x Part number 1069-414.
Nosepiece:
Septuple (7-Place) Motorized Nosepiece.
This nosepiece has DIC slots where optional Differential Interference Contrast sliders can be inserted.
RMS thread size. Not M27.
Objectives:
Plan-NeoFluar 5x/0.15, Infinity/0.17. Part#440320.
Plan-NeoFluar 10x/0.30, Infinity/0.17. Part#440330.
Plan-NeoFluar 20x/0.50, Infinity/0.17. Part#440340.
Plan-NeoFluar 40x/0.75, Infinity/0.17. Part#440350.
A-Plan 100x/1.25 Oil, Infinity/0.17. Part#441080.
You still have two empty spaces for other objectives. We have a large variety of objectives to select from. You may want to add a 2.5x or a 63x objective, at extra cost.
Please note that these are not phase contrast objectives. If you want to accomplish phase contrast microscopy, please contact us about the required objectives lenses.
Condenser:
Motorized Substage Light Condenser.
Seven settings: Ph1, Ph2, Ph3, DF, I/H (DIC I/Brightfield), II (DIC), III (DIC).
Red color Front lens, 0.9 N.A., compatible with DIC usage.
Condenser Zeiss Part Number 1159-531.
Phase Contrast settings: Ph1, Ph2, Ph3.
Empty Spaces for: DIC Prism I, II, III. No prisms are installed.
Darkfield Microscopy:
Capable of darkfield microscopy. Engage the darkfield setting in the condenser. All of the objectives will then have darkfield illumination.
General Specifications:
XY Mechanical Stage. Low position movement on right hand side.
Non motorized stage.
Motorized focusing.
Frame Marking:
100V – 240VAC. Capable of either voltage. 180 VA.
Made in Gottingen Germany.
CE Certification.
Fluorescence Illumination:
Lamp Housing: HBO 100, Part number 1007-980. CE certification.
AttoArc-2 HBO 100W variable intensity Mercury lamp controller.
Pendant keypad for varying the intensity of the lamp. This has the ability to touch a button and significantly reduce the intensity, such as giving 50 percent output.
Reflector Turret:
Has 8 spaces for cubes.
Motorized selection of reflector cube is operated by 4 buttons, two on each side of the frame, by the focusing knobs.
Brand New Filters:
We can install your choice of fluorescence filter sets. With the listed price, we will install three filter cube sets consisting of brand new Chroma filters: DAPI, FITC, TRITC.
You may request any others to fit your needs. The filter sets we use now are Chroma's hard coated, which means they have a lifetime guarantee against photo bleaching. This is a new technology and allows greater light transmissibility than the original filters. The original style filters that are not hard coated will fade rather quickly and give an uneven light spectra over time, with overall reduction of transmissibility.
Transmitted Illumination:
HAL 100, 12V100W Halogen Illuminator. Part Number 447219 (1039-685). Internal power supply in the frame.
General Notes:
Microscope is in good condition. We guarantee all functions work fine.
Optional Trinocular head with two camera ports: (these items NOT included!)
Ports for two cameras on the head.
Reflector module in head, motorized to move the prism to select between the two cameras. This can be computer controlled. Head has a control cable as well as a 12VDC power input.
Optional Phase Contrast Microscopy:
The included condenser has the required Phase annuli with centering capability.
Only need to change the objectives to phase contrast objectives.
Optional Differential Interference Contrast (DIC) System: (these items NOT included!)
Note: The included objective nosepiece has the required DIC openings where DIC sliders can be inserted.
Note: The included condenser has the required spaces for DIC prisms I, II, and III. It also has the red polarized top lens.
Substage polarizing filter. Polarizer rotates 0-90 degrees. Mounted to the rack below the condenser.
DIC sliders. Exact ones depend on the objectives that you want the DIC on.
Analyzer filter slider or Analyzer Reflector module.
Need to review the objectives needed, as have to get sliders to match the objectives.
DIC prisms in the condenser.
Optional Reflected light microscopy: (these items NOT included!)
Reflection module cube.
HAL 100 halogen lamp in upper position (where the HBO 100W mercury lamp is now). May use the halogen lamp that is on the bottom or purchase another solely for the top.
Optional Polarized light: (these items NOT included!)
Analyzer filter slider to go in slot under the head. Part number 453657. Also used for DIC.
Optional Apotome: (these items NOT included!)
Apotome slider Part number 1144-700
Optional AxioVision Software: Use this for computer control of the instrument.
Light Manager Setup:
With a motorized unit, the microscope should be set up with the light manager inside the Zeiss Zen or Axiovision software. The microscope will then be able to know which reflector module and objective is in place. The motorization of the system will be used to automatically set several features of the microscope, including:
a. The position of the condenser. It sets the right phase annulus, or BF setting.
b. The condenser iris is adjusted.
c. The top lens on the swing-out condenser is moved accordingly.
d. The halogen lamp illumination voltage is adjusted. This means that for some objectives, like a low power, the voltage is reduced so you are not blasted with too much light.
e. The par focal focusing is set.
This is the responsibility of the purchaser to do all the desired configurations.
Condition:
This is a reconditioned microscope and is in good working condition.
User Manual and Instructions: 
Click this link: Zeiss AxioPlan 2 Imaging Brochure
Click this link: Zeiss Axioplan 2 Imaging Operating Instruction Manual
Click this link: Zeiss HBO 100 Microscope Illuminating Operating Manual
Click this link: Zeiss Apotome Brochure
---
TERMS AND CONDITIONS:
Payment Method:We generally accept purchase orders from government, educational, and industrial facilities. For some orders, we accept credit cards. We also accept bank wire (telegraphic transfers) transfers. Contact us for details.
Shipping Costs:
Shipping costs vary. Please contact us and we will review your location and the cost to ship.
Money Back Guarantee:
We guarantee you will be satisfied with your purchase. If in the unlikely event you are not satisfied and want to return your item, please contact us within 10 days of receiving it. We will then arrange to get you an RMA number and details about how to return it. Shipping costs are non-refundable. We have no restocking fees. We will refund the full price of the equipment.
Warranty:
We warranty all our reconditioned products to be in good working order. We will repair or replace equipment at no charge, during our 90 day warranty period. We have a one year warranty period for labor.
Warning:
UV light and Mercury Bulbs are Dangerous! YOU MUST Read BEFORE purchasing!
Click this link.