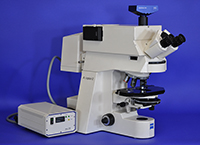 ITEM CODE: SKU-119
Model: Zeiss AxioPlan-2
Shipping Cost: Free USA Shipping.
SOLD
General Specifications:
Manual Frame. Nothing is motorized. So there is less that can go wrong.

High power 100W halogen illumination.

Koehler illumination was tested and works properly.

Condenser has Ph1 Phase Contrast annulus. 0.9 N.A. Flip-top lens for use with the low power scanning 5x objective.

3200 K button. This quickly sets the light intensity.

Includes IR cut-off heat reflecting filter to protect internal lenses from the extreme heat.

Eyepieces: 10 X/25. Wide field of view

Selectable voltage. 120 VAC / 240 V AC.

XY right-hand mechanical stage with slide movement fingers.

Top camera port.

Does not include a camera or c-mount. That is only shown to demonstrate how one can be connected.
Fluorescence Microscopy:
We completely tested the fluorescence system. Everything performed properly.

Field Aperture and Field Diaphragm on incident illumination path.

IR cut off filter to protect internal lenses from overheating.

Arc Adjustment Aid – Useful for centering bulb.

HBO 100 Fluorescent Illuminator.

Dichroic Filter Cube: Includes FITC dichroic filter cube. All other spaces are empty.
Objectives Lenses:
6-Place DIC objective nosepiece with RMS thread.
Includes these objectives:
CP-Achromat 5x/0.12 ∞/- Objective.

CP-Achromat 10x/0.25 Infinity Objective.

CP-Achromat 40X/0.65 ∞/0.17 Objective.

CP-Achromat 100x / 1.25. Infinity /0.17 Oil Objective.
Comments:
This microscope is in great condition.

Includes all the tools for proper assembly and disassembly.

This is a high quality Zeiss (Made in Germany) optical instrument.

We have a wide variety of optional scientific cameras, both monochrome and color, with and without Peltier cooling.

Upon purchase, we will email links to the user manuals / instructions.