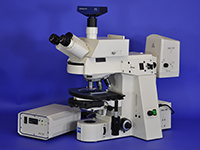 General Specifications:
Semi-Motorized Frame.

Manual Features: Course and Fine focusing. Objective Nosepiece rotation.

Motorized Features: Reflector Turret rotation.

Brightfield transmitted illumination: 100W halogen.

Koehler illumination was properly set.

3200 K button. Press this button to immediately get 3200 K color temperature.

Includes IR cut-off heat reflecting filter to protect internal lenses from the extreme heat.

Eyepieces: 10 X/25. Wide field of view.

Selectable voltage. 120 VAC / 240 VAC.

XY right-hand mechanical stage with slide movement fingers.

RS-232 Port. We connected a computer to this frame and it worked properly with good communication.
Head with Photography Capability:
Has dual photography ports.

Settings as follows: 100% eyepieces, 100% top port, 100% rear port.

Does not include a camera or c-mount. That is only shown to demonstrate how one can be connected.
Condenser:
Phase Contrast annuli: Ph1, Ph2, Ph3.

The objectives are not Phase Contrast, but that is all that is needed to add phase contrast microscopy.

Dark-field Stop.

Numerical Aperture 0.9 N.A.

Flip-top lens (for low power objectives to get full field of view).
Fluorescence Microscopy:
We completely tested the fluorescence system. Everything performed properly.

Field Aperture and Field Diaphragm on incident illumination path.

IR cut off filter to protect internal lenses from overheating.

Arc Adjustment Aid – Useful for centering bulb.

HBO 100 Fluorescent Illuminator.

Dichroic Filter Cube: Includes FITC dichroic filter cube. All other spaces are empty.
Objectives Lenses:
6-Place DIC objective nosepiece with RMS thread (5) and M27 (1).

Includes these objectives:

CP-Achromat 5x/0.12 ∞/- Objective.

CP-Achromat 10x/0.25 Infinity Objective.

CP-Achromat 40X/0.65 ∞/0.17 Objective.

CP-Achromat 100x / 1.25. Infinity /0.17 Oil Immersion Objective.
Comments:
We refurbish and repair fluorescence microscopes. We went through this microscope to get it in top shape for you.

We are including the necessary tools to assemble.

Our price is incredibly low. Even a piece of junk Chinese made microscope, new, is going to cost more than this precision German-made instrument. The quality of this Zeiss is superb. And you can upgrade to better lenses that are compatible with the frame to achieve research grade images.

If you would like to have a camera, please let us know and we can add it into the ad. We sell the same cameras as others, for much less.

Upon purchase, we will email links to the user manuals / instructions.