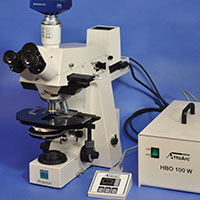 ITEM CODE: SKU-074
Free Worldwide Shipping:
Equipment may ship from Outside USA. We provide free worldwide shipping. The method of shipping may vary, depending on destination country, but may be via commercial air cargo. Not all countries will have door to door service. Contact us for further details so we can discuss shipping arrangements.
Main Features:
Configured with Brightfield, Darkfield, Phase Contrast, and Fluorescence Microscopy.
Condenser has settings for: phase (Ph2, Ph3), Darkfield, Brightfield. It has one open space that can hold a Ph1 annuli (not included).
Numerical Aperature 0.9.
Condenser flip-out top lens for usage with low power scanning objective lenses when top lens is rotated out of the path.
Eyepiece pair Pl 10x / 20. Includes rubber cupping eyeguards to block extraneous light.
Eyepieces each come with a pair of the rubber eyecups, the version for blocking out extra light from the sides. This is best for fluorescent viewing since the specimen image is of lower intensity.
Right hand stage with XY low position movement. With stage finger slider to hold slides.
Trinocular Viewing Head. Has built-in camera port.
C-mount adapter for camera attachment is not included.
DOES NOT INCLUDE CAMERA OR CAMERA ADAPTER (C-MOUNT). Camera is shown in images to demonstrate that one can be connected.
DOES NOT INCLUDE OBJECTIVE LENSES.
Incident Light – Fluorescence Illumination:
100W HBO lamp housing, control keypad, Attoarc power supply.
Ability to vary the intensity of the mercury vapor illumination. This reduces burn-out on filters and specimens.
Vertical Illumination light path centering capability.
Transmitted Illumination:
100W Halogen Lamp Housing and Bulb.
Built-In Filter system with four push buttons.
Objective Lens and Nosepiece:
Six place Non-DIC objective nosepiece with no objective lenses:
(photos show some objectives, but they are NOT included).
Dichroic Fluorescence Filter Cubes:
Three-Place filter tray slider.
Includes two filter blocks (with open vertical path and closed horizontal path) for use with brightfield, darkfield, and phase contrast. Blocks incident light path (HBO light). Allows transmitted light to pass. You only need one block. The other block can have a filter set inserted.
Includes one old filter set. It is suggested to replace this with a new one.
New sets start at USD $450/set. We are a Chroma dealer and can provide whatever filter sets you may need.
Quality:
This is a high quality Zeiss (Made in Germany) optical instrument.
We also sell Chinese made fluorescence microscopes but the quality is substantially lower.
Even a used Zeiss, several years old, will easily outperform a Chinese fluorescent microscope.
Optional Accessories:
We have a wide variety of optional scientific cameras, both monochrome and color, with and without Peltier cooling.
User Manual and Instructions:
Upon purchase, we will email links to the user manuals / instructions.
---
TERMS AND CONDITIONS:
Warranty Excludes Objective Lenses:
Our warranty excludes the objective lenses. There are several reasons for this. First of all, if the objective is good, it will continue good performance unless there is some user or environmental abuse. Abuse can be from oil getting on a non-oil immersion lens, contact with a solution that degrades the cement around the glass, contact with other chemicals that may stain, etch or pit the glass, scratching the lens by incorrect cleaning methods such as cloths not of lens cleaning quality, damaging the lens by scraping it on slides or metal slide holders on the stage, dropping on a hard surface, subjecting the objective to extreme humidity causing internal mold or mildew, etc.
In addition, objectives can't feasibly be repaired. If an objective is damaged so that the optical quality is significantly diminished, it is suggested to throw it away. One solution is to send it back to the factory and incur a repair fee equal to about half the price of a new replacement. That is usually cost prohibitive. We professionally clean the front and back lens, and the outside barrel of the objective. But we do not open them up. That should only be done by the factory under strict conditions and with optical laser alignment. Generally, when someone other than the factory messes with a lens, the performance may still be acceptable, but likely will be noticeably lower quality when compared side by side with a new lens. So since defective objectives are generally thrown away, and replaced with another one, there is no need to warranty them. The user can easily find a matching objective and replace it on their own.
Objective Lenses – Condition:
All objectives have been professionally cleaned.
All are guaranteed to be free from optical defects. If any defect is found, it will be clearly noted in the ad.
Our inspection of the objective lenses includes checking for the following:
lens cracking, pitting, lens cement not intact, internal oil damage or oil seepage, glass fogging, glass hazing, stains on optical glass, mold or mildew stains, and delamination (separation of internal lenses).
Condition of Equipment:
This reconditioned microscope is complete and in excellent working order and has been completely checked out and serviced.
Technical Sales and Support:
Most offerings of used microscopes are by simple flippers of equipment who have obtained defective and rejected microscopes from labs discarding the equipment. They resell exactly what they got, as they got it, and without any technical knowledge of it. You can rest assured when purchasing from us that we are professional dealers who are well trained to service and provide technical support of the microscopy equipment. We test, repair and refurbish all equipment to excellent working conditions. We are well trained and able to give you technical advice including pre-sale and post-sale support.
Microscope Training – Setup Support – Software Assistance:
Concerned about how to set up and operate this equipment? Need training? Need help with software for the camera? We can help. Contact us for more details.
Free Application Evaluation and Recommendation:
We strongly encourage all potential buyers to first contact us with regards to their specific application. In most situations, we need to customize certain features of the microscope in order to best fit the end user's technical requirements. We want to ensure you have the correct and optimal configuration for your application.
Fluorescence Filter Sets – Customized:
We are dealers of both Chroma and Omega brands (Made in USA) of dichroic filters. Please contact us regarding the specific fluorophores you are using so we can be sure the filter sets provided are a proper match. Incorrect matching will give you poor quality or no visible fluorescing.
Free Worldwide Shipping:
Equipment may ship from Outside USA. We provide free worldwide shipping. The method of shipping may vary, depending on destination country, but may be via commercial air cargo. Not all countries will have door to door service. Contact us for further details so we can discuss shipping arrangements.
Customs Duty and Tax:
Any and all customs brokerage, customs entry, VAT and duty/tax are the responsibility of the buyer. Buyers in USA can contact us in advance to see if there are any entry fees.
Voltage Requirement:
Our equipment may show 110V and/or 220V external power supplies. Some power supplies are not Volt selectable. Depending on your country of final destination, and the Voltage supply, we may need to change the power supply shown in the ad to one that matches your power requirements. Contact us first with your Voltage requirement so we can be certain we have the required power supply if it needs to be changed from what is shown in the ad.
Payment Method Accepted:
We generally accept purchase orders from government, educational, and industrial facilities in some countries. For some preapproved orders, we accept credit cards. We also accept bank wire (telegraphic) transfers. Contact us for details. We properly screen all buyers to protect against fraudulent transactions. We reserve the right to deny transactions deemed to be potentially fraudulent.
Financing Available for Select Customers:
If you are unable to afford the full purchase price, please contact us about financing details. Our financial partner offers 90 Days "Same as Cash" and deferred payments up to 6 Months.
Rental:
We have rental plans available for some companies and universities. Contact us for details.
Money Back Guarantee:
We guarantee you will be satisfied with your purchase. If in the unlikely event you are not satisfied and want to return your item, please contact us within 14 days of receiving it. We will then arrange to get you details about how to return it. We have no restocking fees but the actual cost we paid for shipping will be deducted from refund amount. We give free shipping, but for returned items, this cost will be charged to buyer.
Beware of Counterfeit Fake Parts:
Be sure of whom you are buying from as a lot of "dealers" are selling counterfeit parts, passing them off as originals. Click this link.
All Original Parts – Not Counterfeit.html
Warning: UV light and Mercury Bulbs are Dangerous! YOU MUST Read BEFORE purchasing!
Click this link.