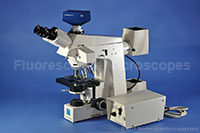 MODEL: Zeiss Axioskop
ITEM CODE: 636
Shipping Cost: To be determined
Head:
Trinocular viewing head.
Pair of Pl 10x high eyepoint eyepieces.
With rubber cupping eyeguards (needed for fluorescence to cut out extraneous light).
Objectives:
5-Place Nosepiece.
A-Plan 2.5x/0.06, Infinity/-. Cat. No. 1113-114.
A-Plan 5x/0.12, Infinity/-. Cat. No. 441020.
A-Plan 10x/0.25, Infinity (photos show this as a phase. But we will substitute one that is not phase).
Achroplan 20x/0.45, Infinity/0.17.
Achroplan 40x/0.65, Infinity/0.17.
Condenser:
Flip-out (swing top) condenser.
The top lens can be swung out of place when using low power objectives like the 2.5x.
The N.A. is probably 0.9, but will need to be verified.
General Specifications:
Made in Germany. This is not one of the older West Germany models.
Right hand mechanical stage.
Illumination:
12V50W Halogen Illuminator for transmitted light.
50W HBO Mercury illuminator for reflected fluorescence.
Includes bulb for Halogen and Mercury.
Power supply for 50W HBO. This is only 110V.
Internal power supply for Halogen. The microscope is volt selectable 115-230VAC, 50/60 Hz.
Fluorescence Filters:
Will need to verify, but I think this is a 3-place slider tray.
The filters are not included in this ad.
Normal filters to use are DAPI, FITC, TRITC, but we can supply whatever you need.
We can fit either used or new filters.
We can supply brand new Chroma filters, hardcoated, and lifetime guaranteed. Price is $450/set.
Used filters, with decent imaging, are $150 per set.
Camera – Photography:
Photography port on top of trinocular head.
The photos show the unit with a Zeiss AxioCam HRc mounted. However, this camera is not included. Also, the c-mount adapter to mount the camera is not included. This is shown only to demonstrate that the top trinocular port exists and is able to be used for photography.
General Notes:
UL listed.
Shutter slider on back. Use to block Mercury light source when not in use.
Microscope is in good condition. We guarantee all functions work fine.
Includes power cord (not shown).
Condition:
This is a reconditioned microscope and is in good working condition.
User Manual and Instructions: 
Click this link: Zeiss Axioskop Transmitted and Incident Light Fluorescence Instruction Manual
Click this link: Zeiss HBO 50 – HBO 100 – XBO 75 Installation and Alignment Manual
---
TERMS AND CONDITIONS:
Payment Method:We generally accept purchase orders from government, educational, and industrial facilities. For some orders, we accept credit cards. We also accept bank wire (telegraphic transfers) transfers. Contact us for details.
Shipping Costs:
Shipping costs vary. Please contact us and we will review your location and the cost to ship.
Money Back Guarantee:
We guarantee you will be satisfied with your purchase. If in the unlikely event you are not satisfied and want to return your item, please contact us within 10 days of receiving it. We will then arrange to get you an RMA number and details about how to return it. Shipping costs are non-refundable. We have no restocking fees. We will refund the full price of the equipment.
Warranty:
We warranty all our reconditioned products to be in good working order. We will repair or replace equipment at no charge, during our 90 day warranty period. We have a one year warranty period for labor.
Warning:
UV light and Mercury Bulbs are Dangerous! YOU MUST Read BEFORE purchasing!
Click this link.