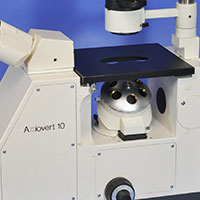 ITEM CODE: F104
Shipping Cost: Free Shipping
Description:
Zeiss Axiovert 10
Inverted Microscope.
This microscope is being sold as is. We have not done any testing or refurbishing on this microscope. What you get is what you see in the images, without any guarantees or warranties.
This is being sold just like we received it.
As you can see in the images, this microscope is missing some components.
There are no returns on this product.