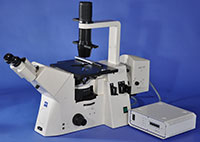 SOLD – BUT HAVE SIMILAR UNITS. PLEASE EMAIL US
MODEL: Zeiss AxioVert 200 Inverted Fluorescence
ITEM CODE: 637
Shipping Cost: To be determined
Description Overview:
Non-motorized frame. Everything is manually operated.
Bright 100W HBO Mercury Illumination System.
Let us know your custom needs and we can configure this microscope to match your application.
General Specifications:
Six place Sextuple Nosepiece.
Nosepiece made to accept DIC sliders. No DIC sliders included.
Eyepiece Set: W-Pl 10x/23mm field of view. Model 455043-0000.
C-Mount to attach camera to left side camera port. Model 456105.
Transmitted Illumination: 6V-30 Watt Halogen Transmitted Light on Tilt Back Carrier.
Phase Contrast Microscopy: Condenser slider with Ph1-0.4, Ph2-0.4, and BF (brightfield, with daylight compensated blue filter) settings.
Manual XY Stage Slider. Left Hand low position knobs. Made to hold and move Petri Dishes.
Carrying Handle on back of frame for ease of transport.
Objective Set:
A-Plan 5x/0.12, infinity/-. Part Number 441020.
Achroplan 10x/0.25, infinity/-. Part Number 440030.
LD Achroplan 20x/0.40, infinity/0-1.5. Korr, Ph2. Correction Collar. Phase. Part Number 440845.
LD Achroplan 40x/0.60, infinity/0-2. Korr, Ph2. Correction Collar. Phase. Part Number 440865.
Two empty capped off spaces for additional objective lenses to be added.
Fluorescence Specifications:
Dichroic Filter Cube Sets:
These are used but in excellent shape. All were completely tested and produce good resultant images.
DAPI
Zeiss Filter Set #02.
G 365; FT 395; LP 420
FITC
Zeiss Filter Set #10.
BP 450-490; FT 510; BP 515-565.
TRITC
Zeiss Filter Set #15.
BP 546/12; FT 580; LP 590
We can provide additional cubes with customized filter sets. We are a dealer of Chroma filters.
Reflector turret with six cube positions.
HBO 100 Watt Mercury Illumination System.
Lamp Housing: Model 1007-980.
Includes a used HBO 100W Mercury bulb.
Power Supply: VSG HBO100 / 001.26E. 100-240 VAC. Made in Germany.
Viewing Aid for centering of Mercury HBO bulb, on back of frame.
Frame Markings:
100-240 VAC. 50-60Hz.
Made in Germany
CE Certification.
General Notes:
We guarantee the functionality of this microscope. We have fully tested it.
We refurbish Zeiss equipment and have extensive background in servicing and obtaining parts.
Camera shown in images but sold separately. Camera is not included, but c-mount is included.
User Manual and Instructions:
Click this link: Zeiss Axiovert 200 Brochure.pdf
Click this link: Zeiss Axiovert 200 and 200M Operating Manual.pdf
---
TERMS AND CONDITIONS:
Payment Method:
We generally accept purchase orders from government, educational, and industrial facilities. We also accept bank wire (telegraphic transfers) transfers. Contact us for details.
Shipping Costs:
Shipping costs vary. Please contact us and we will review your location and the cost to ship.
Money Back Guarantee:
We guarantee you will be satisfied with your purchase. If in the unlikely event you are not satisfied and want to return your item, please contact us within 10 days of receiving it. We will then arrange to get you an RMA number and details about how to return it. Shipping costs are non-refundable. We have no restocking fees. We will refund the full price of the equipment.
Beware of counterfeit fake parts:
Be sure of who you are buying from as a lot of "used dealers" are selling counterfeit parts, passing them off as originals.
Click this link.
All Original Parts – Not Counterfeit
Warning:
UV light and Mercury Bulbs are Dangerous! YOU MUST Read BEFORE purchasing!
Click this link.
Safety with UV Light